MOSS SharePoint Recovery Tool – Efficient & High Performing
SharePoint Recovery software is an efficient and high performing MOSS SharePoint recovery tool that you can easily use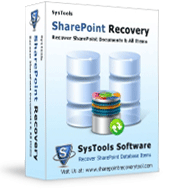 SharePoint Server: SharePoint database Server also called as the Microsoft Office SharePoint Server (MOSS) is an integration of different products and software elements. This is basically a collaborative web portal application based on the WSS (Windows SharePoint Services) platform. This database application is used mainly to publish websites that access combined or shared workspaces, content databases, documents, lists, document libraries etc. MOSS Sharepoint Sever saves data information in MDF files.
Causes of Corruption in the MOSS SharePoint Server: Microsoft Office SharePoint Server corruption can occur due to many uninvited and unwanted causes, some of which are as follows:
Power failure leading to abrupt system shut down affecting crucial MOSS files
Media corruption or bad sector in storage media
Virus attack or Trojan infection causing MOSS data corruption
Software malfunctioning or hardware failure
Hard disk crash or failure
Storage space maximization of the SQL database etc.
Efficient & High Performing SharePoint Backup Restore Tool:
Data revival tool of SharePoint is efficient application for performing the SharePoint restore process as it uses advanced technology and improved recovery techniques to facilitate efficient MOSS recovery. It is also a very high-performing SharePoint MOSS recovery whose probability of giving successful high-end results is very high.
Feature List
There are many features of Microsoft Office SharePoint recovery tool. Some of them are as follows:
You can recover SharePoint files, searches, libraries, documents, sites, alerts, workflow state & associations, permissions, metadata, custom views, Web part links, and other database contents from corrupted SharePoint databases.
You can use this MOSS SharePoint recovery tool for MOSS backup restore process. You can retrieve SharePoint backup easily. There is also a useful option to locate and preview a particular item inside multiple database backups before restoring it.
Software performs accurate recovery. It does not hamper the information contained in your database elements in any way.
You can recover database elements from SharePoint 2007 and 2003 database.
SQL servers supported by our product are 2003 and 2007.
FREE Demo Version (MOSS Recovery Process Trial)
You can see and use the software on your computer screen without paying anything just by downloading the FREE Demo Version of this software online. You can use this facility of FREE software evaluation to check the tool before purchase. Using the Demo Version, you can see the SharePoint MOSS recovery process and can also preview the recoverable items BUT cannot save them to your system. For saving the files, you need the Full Licensed Version of the software.
Full Licensed Version: For complete recovery, purchase the Full Licensed Version of SharePoint recovery software. You can use this tool to recover SharePoint site, search, documents and all other items. Using the Full Version (Personal License or Business License), you can easily recover SharePoint database contents and can save them to your system. Personal License is JUST for $129!